EXPLORE the latest issue of our Miscellany!
Here's a contents list for the September 2020 issue of the Abel Tasman-Discovery Miscellany:
Abel Tasman exhibition in Enschede, The Netherlands

(

18 September to 4 October

)

—

Please visit if you can!!!!!

Pacific Virtual Museum
Genetic study finds proof of early Polynesian/Native American contact
Mayflower 400: The science of sailing across the ocean in 1620
Recent Publications &c.

The first pakehas around Wellington and Cook Strait 1803-1839
Map History / History of Cartography website
Future issues of the Miscellany
And you can read the complete issue–CLICK HERE
(please email tasman1642.nz@gmail.com if you'd like to be on the distribution list)
+++++
April 2020 Abel Tasman / Discovery Miscellany: Click HERE to read it
+++++
NEW

book on Abel Tasman's voyages
!
Henry Van Zanden, who lives in Sydney, has written several books relating to early European voyages in the context of Australian history, published under his Australia Discovered imprint–website: australiadiscovered.com.au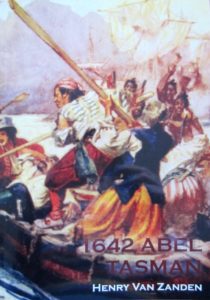 His new book is 1642 Abel Tasman. It covers Abel Tasman's whole life and voyages of exploration, starting within the context of European history, Dutch exploration and commercial expansionism. The New Zealand content (p.87-128) includes analysis of whether Tasman's crew actually landed in Wainui Bay; the origins of the Ruamahanga skull (a 17th-century female European skull); and the mystery of the Spanish helmet.
It's an A4 paperback volume (235 pages) heavily illustrated with colour photographs, course reconstructions, and reproductions of historic charts and paintings, and a bibliography (p.232-233).
If you live in New Zealand contact Tinakori Books for a copy: tinakoribooks@xtra.co.nz (website: https://www.tinakoribooks.com/) All other sales: directly through australiadiscovered.com.au
Abel Tasman/Discovery Miscellanies:
Approximately twice a year a newsletter ("miscellany") of various items is sent out to an international group who are especially interested in the discovery story of the Pacific Ocean.
Email
tasman1642.nz@gmail.com
if you'd like to be on the distribution list.
~~~~~
Now on YouTube:

Enjoy the Lutjegast ceremony where Ruamiki is handed over by kaumatua Doug Huria and his whanau to the Abel Tasman Museum. Partly in Dutch, partly in English–CLICK HERE
~~~~~~
Unveiling the pounamu at Abel Tasman Museum, Lutjegast (22 September)
At the official opening of the First Encounter 375 commemoration last December, Doug Huria of Ngati Tumatakokiri presented Mayor Ard van der Tuuk (of the Municipality of Grootegast) with a stunning piece of pounamu (greenstone),
which Doug had named Ruamiki after an ancestor.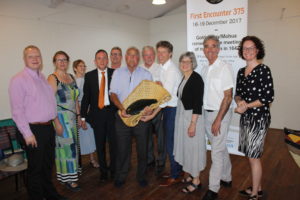 On 22 September the pounamu will be unveiled at the Abel Tasman Museum in Lutjegast, completing a wonderful cycle of establishing warm new relationships from the events of 1642. It was great to hear that Doug and his wife Margaret were being hosted by the Municipality of Grootegast to travel to Holland to be part of that ceremony. They will be accompanied by Todd Huria, their London-based son. It's a most fitting conclusion to the commemoration.
~~~~~
Portrait of Tasman and his family (?) on loan to Groninger Museum
A portrait in the Nan Kivell collection (National Library of Australia) is currently on loan for a few months to the Groninger Museum in Groningen, Holland. The work (see below) has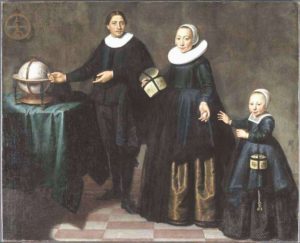 been attributed to Jacob Cuyp in 1637, with the subjects being Abel Tasman, his wife and daughter.
However, questions have been asked about the validity of these attributions, and the museum will try to establish if Cuyp did indeed paint it. It is on display at the museum until 6 January 2019.
Abel Tasman Miscellany, July 2018
A big catch-up on news… from the ambassador to new books, and remembering Ron Aaron. Click HERE to read it.
++++++
First Encounter 375: A documentary
Now available on YouTube: CLICK HERE!
Peter Blasdale's 47-minute documentary is almost like being there. Over four days, 16-19 December 2017, the community of Golden Bay/Mohua marked New Zealand's earliest recorded meeting between Maori and European, which took place in 1642, in the bay that 5000 people now call home. It's a powerful story to tell and the documentary captures that feeling.
~~~~~
Editions of Two Voyages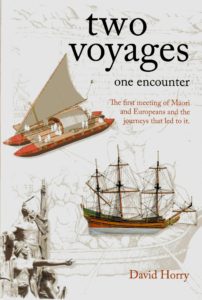 A New Zealand edition of Dave Horry's book has now come available. Published by Copy Press in Nelson it is in single-column format with larger illustrations. Price is NZ$44.99 + shipping; order through bookshops or from their website (www.copypress.co.nz)

A fresh perspective on the first meeting of two peoples … Dave Horry's Two voyages: The first meeting of Maori and Europeans, and the journeys that led to it. The text of this significant new work was prepared for, and reflects, the First Encounter 375 commemoration in December — here's the link to Amazon: tinyurl.com/ya9kqm3t
Looking back at First Encounter 375 (16-19 December 2017)
The First Encounter 375 Planning Group is very grateful for the quality and extent of mainstream media coverage of the event at the time. Below are three major contributions; for a complete list (PDF) >>> CLICK HERE
(For the FULL First Encounter 375 programme (PDF) >>> CLICK HERE )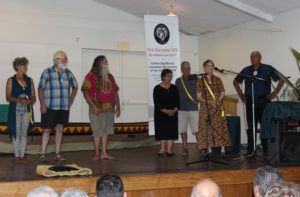 The First Encounter 375 programme planning group at the official opening on Saturday 16 December 2017; left to right: Sage Forest, Robert Jenkin, Grant Knowles, Mairangi Reiher, Dave Horry, Penny Griffith, Barney Thomas. Sage, Dave and Penny are wearing golden "mohua" sashes, and Robert's praeutien replica (Dutch "small boat") is in the background.
=====
Recent publications:
Emeritus Professor Atholl Anderson has sent us his very recent article on Maori colonisation voyaging (Journal of the Royal Society of New Zealand, 47:3, 222-231) CLICK HERE to read it.
Robert Jenkin's new post about voyaging canoes, "Moana Nui …" CLICK HERE
~~~~~~~~~~
LAUNCHED!
The first week of November brought two important launches: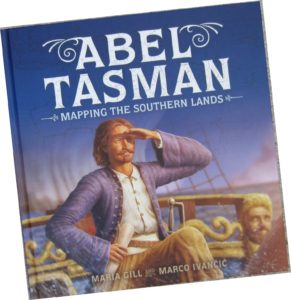 an illustrated children's book Abel Tasman: Mapping the Southern Lands (by Maria Gill and Marco Ivancic).
Published by Scholastic~~ask your local bookshop, or online through Australian distributor Booktopia: tinyurl.com/ybyxtg95
… and the launch in Golden Bay/Mohua of the full size replica of the Dutch small boat. The original was a key factor in the events of 19 December 1642 and the replica will feature large in December 2017's commemoration. It has been created by a local team of home-schooled students and parents, led by Tasman historian, Robert Jenkin, and supported by funding from Tasman District Council.
~~~~~~~~~~
Background Reading: In 2012, as part of the commemoration of the 370th anniversary, the Netherlands Embassy hosted an important seminar in Nelson, which brought together scholars from the Netherlands and around New Zealand. CLICK HERE for a summary of the presentations and discussion.
~~~~~~
First Encounter visitors coming from Tasman's place:
Rob Zagmaan (Netherlands Ambassador to New Zealand) visited the Abel Tasman Museum in Lutjegast in July, and has sent this photo of the occasion. The museum was opened in 2014.
Rob is pictured here (centre, yellow tie) with a group including Grootegast Mayor Ard van der Tuuk (next to Rob) and Joost Tanasale 3rd from left). Mayor Ard and Joost are part of the 5-person delegation coming to Golden Bay/Mohua for the First Encounter 375 commemoration. We look forward to meeting them when they arrive on 16 December.
Lutjegast (Tasman's birthplace) is within the municipality of Grootegast, which has a friendly town relationship with Tasman District Council, and Kingston, Tasmania.
~~~~~~~~~~
First Encounter 375: The voyage begins
Today (14 August 2017) is the 375th anniversary of the day the Heemskerck & Zeehaen sailed from Batavia (now Jakarta) to begin their search for the Great South Land and its untold riches. As we know, his main discoveries were what became known as Tasmania, New Zealand, Tonga and Fiji and their peoples.
Below is a preliminary notice of this year's events marking the actual anniversary (18/19 December) of the first encounter between Tasman's crew and Maori resident in Golden Bay/Mohua. We are also marking the 75th anniversary of the establishment of Abel Tasman National Park in 1942 (300th anniversary). [Notice subsequently removed]
More information on these events will follow as funding and other details are confirmed. Please contact us on firstencounter375@gmail.com if you would like to go on the mailing list for information about the commemoration.
~~~~~~~~~~~~~~~
News from Tasmania:
The 375th anniversary commemoration will be marked in Tasmania on Sunday 3 December with a trip to Tasman Bay and a community lunch at the Bangor Wine and Oyster Shed. For more information contact Tom Dunbabin (tom@bangor.com.au).
The site where Tasman's ship's carpenter Pieter Jacobsz swam ashore and planted the VOC flag on that day in December 1642 (and claiming possession) is now on private farmland, but regular trips are held to the site of a 1923 memorial (pictured). The strong Dutch community and a Dutch Consul in Hobart ensure history is remembered, and this year the Tasmanian government is also involved.
We will be keeping in touch with Tom about their events–and they with us about ours. It's a shared story of discovery.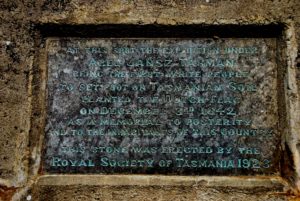 ++++++++
EXHIBITION:
"Te Owha" (Precious Bequest)
Bush, Birds, Beaches–Abel Tasman National Park
@Artbank, 57 Commercial Street, Takaka, during July 2017.
Acknowledging First Encounter 375 (1642-2017)
+++++++++++++++++
Music history: Thinking about Abel Tasman's contribution

Dr Philip Norman is writing a history of New Zealand composers. He recently identified a few major features.
First there's our distinctive birdsong … and then there are the musical sounds of early Maori in Golden Bay/Mohua. Tasman was the first to describe our indigenous music, in December 1642.
Dr Norman comments:
"Abel Tasman, in the diaries of that time, said they heard some chanting on shore and what sounded like trumpets. They assumed the Maoris were giving them a welcoming concert. So they started singing a few bawdy Dutch sailors songs and tooted their trumpet, but what the Dutch were hearing was the Maori haka and the trumpet sound was probably the war trumpet calling all the tribes around.
"The next morning, all was revealed that it wasn't a concert, but a challenge. To me, that is a prime example of music not being a universal language."
Image is of a putatara (conch trumpet) in the collection of Te Papa. The putatara is the centre feature of our FE375 logo.
~~~~~~~~~~~~~~~
Whakamaharatanga toru rau ma whitu tekau ma rima — Commemoration 375