This record of events has been imported from the website established in 2012 to document the 370th anniversary of Tasman's voyage. Events are listed here in reverse date order, with current events at the top, and the earliest at the end. It has been lightly edited to remove details that are no longer relevant.
Ambassador donates important atlas to the Turnbull Library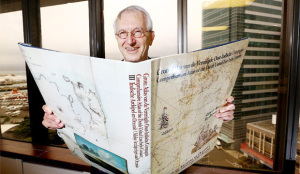 On behalf of the Netherlands Embassy, Ambassador Arie van der Wiel (pictured) gave the Alexander Turnbull Library in Wellington a valuable addition to its research collections relating to the Dutch exploration of Oceania. In particular the atlas documents Tasman's 1642/43 voyage that put New Zealand "on the map", and recorded the existence of the Maori people for the first time.
The ambassador's gift resulted from a need expressed at the June 2012 seminar (hosted by the Ambassador; see earlier listing) for better research resources in New Zealand. These would support continued investigation into the 1642 meeting of two worlds, which took place in what is now Golden Bay—New Zealand's earliest formally documented milestone.
When: Friday 25 January 2013
Where: Alexander Turnbull Library, Wellington
Commemorative beer, brewed by The Mussel Inn, Onekaka, Golden Bay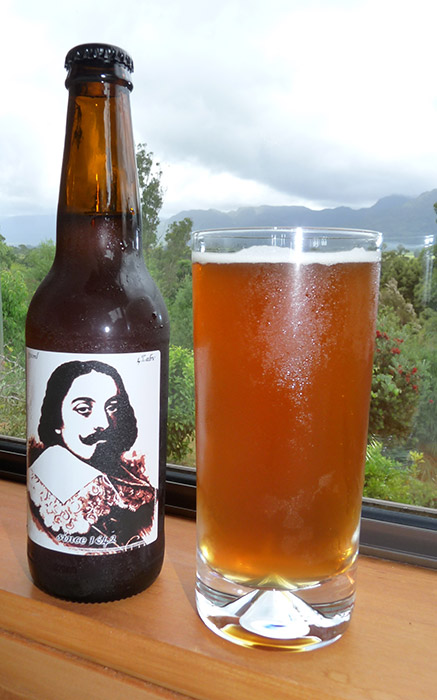 A special brew made for the 370th anniversary.
Also available through other outlets. A unique treat from Golden Bay's iconic Mussel Inn.
When:  January-February 2013
Where: Available at the Mussel Inn, Ratanui Lodge (Pohara), Fresh Choice (Richmond)
Boat trip to Tasman's anchorage off Whariwharangi Beach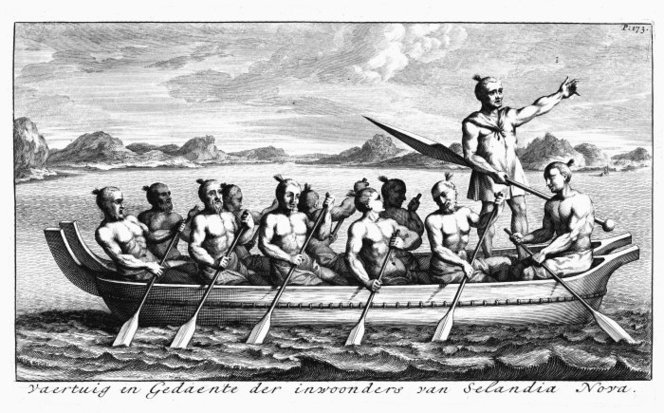 A boat trip from Tarakohe to the place where the Zeehaen and Heemskerk anchored on 18/19 December 1642. This was about 4km north of the Tata Islands, though their small boats explored closer to shore, a subject of continuing debate based on the images from their voyage. We would compare those images with what we see on the day.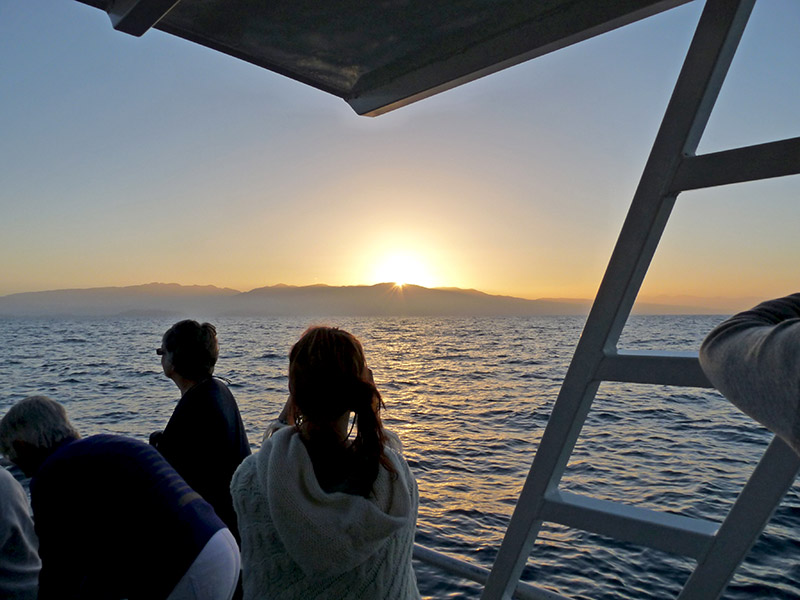 Tasman's journal for 18 December 1642 recorded from their anchorage "the hiding of the Sun (which sank behind the high land)". The photograph, taken from the "Maggie Rose", shows the same scene 370 years (+ 1 day) later, at 8.36pm, a very evocative moment. The trip was postponed by 1 day due to the weather.
When: Wednesday 19 December
Where: Golden Bay
Article: Abel Tasman's achievement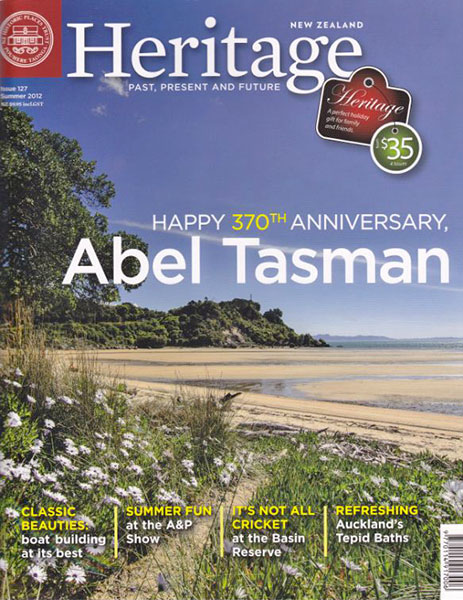 Tasman's achievements as a maritime explorer and the 370th commemorations have been marked by an article in the December 2012 issue of Heritage New Zealand, published by the New Zealand Historic Places Trust. The article mentions the imagined appearance of Tasman in the 1940 commemorative stamp.
It is exciting that the AT370 story is so high profile on the cover of Heritage NZ.
The story itself is titled "Dutch Courage" and is on p. 20-23. The story was written by Matt Philp and the photos taken by Daniel Allen, both of Nelson.
When: Published December 2012.
Event at Takaka Museum – Tasman Interactive & Summer Exhibition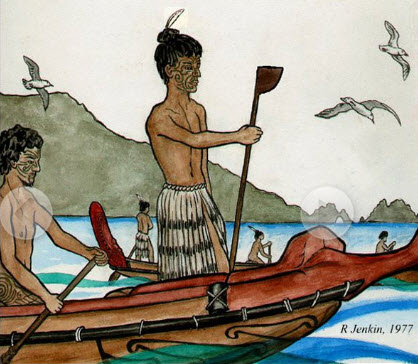 Unveiling of local Tasman scholar and creative artist Robert Jenkin's further developed Abel Tasman interactive based at the Golden Bay Museum in Takaka. Additional cinematics and sound tracks — including a haka by Golden Bay High School students, and traditional Maori music provided with the help of Richard Nunns. Find out more about how the waka and ships were constructed, and the route of Tasman's voyage.
The interactive is now easier to navigate, and a game has been added – you can be captain of the Heemskerck for a minute or a day! The development work is funded by Tasman District Council through its Grants from Rates programme.
Also being opened at the same time is the museum's summer exhibition, "Transportation in Golden Bay".
Where: Golden Bay Museum, 67 Commercial Street, Takaka
When: Tuesday 18 December, 1.30pm
Walk from Pohara to Abel Tasman Memorial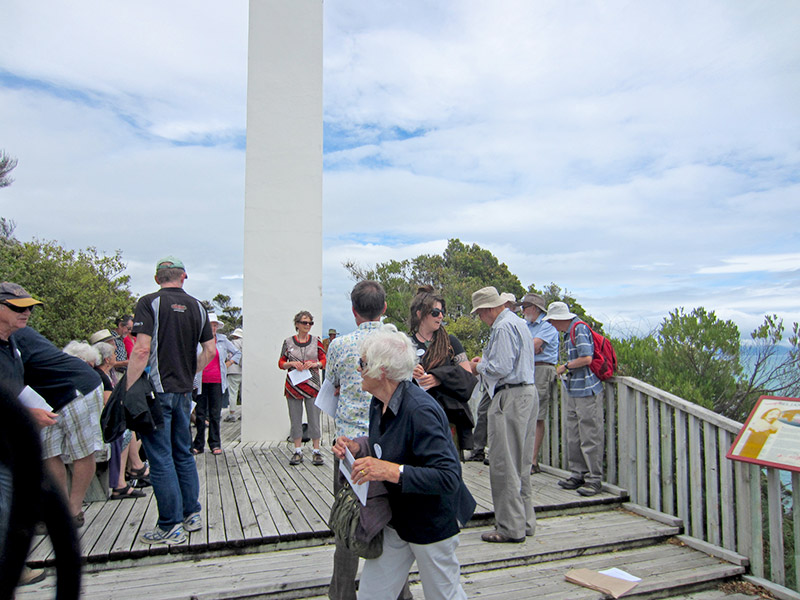 This took place on the exact 370th anniversary of Tasman's arrival in Golden Bay. Gather at grassed area near Pohara Boating Club for a walk up to the Tasman Memorial – the official national monument of this, the earliest formally documented date in New Zealand's history. Imagine what it must have felt like for the two peoples meeting for that first time.
The photo shows some of the walking group at the memorial, where Neil Murray (Dept of Conservation) spoke about plans for refurbishing the national monument for the 375th commemorations in 2017.
When: Tuesday, 18 December, 12 noon (12.15 at the memorial carpark).
Where: Meet near Pohara Boating Club (Tarakohe Harbour)
Morning Tea – 18 December
A special morning tea to thank people involved in this year's AT370 commemoration, or with a special connection with Abel Tasman or our early history. Limited numbers.
Helen Young, owner of the small namesake Zeehaen (moored at Waitapu), is shown speaking to the group. Her daughter Tui and four pupils from Motupipi School also participated, together with a wide range of visitors. Archdeacon Harvey Ruru opened proceedings with a mihi and karakia, followed by a Christmas waiata.
Abel Tasman National Park & 370 years ago – Documentary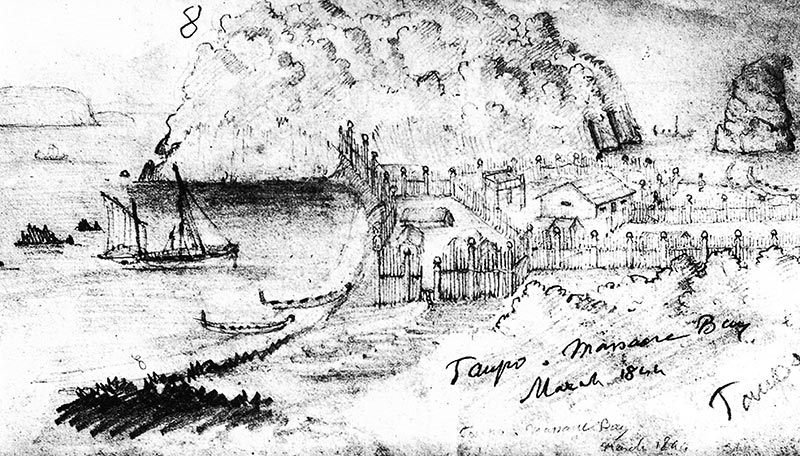 Filming in the national park by Natural History New Zealand concluded with iwi participation and discussion of historical events at Taupo Point. This historic pa site and nearby Whariwharangi Beach were the closest land to Tasman's 18/19 December 1642 anchorage. Waka and warriors came from these sites to investigate the voyagers and their intentions.
The image of Taupo Point is an 1844 drawing by NZ Company surveyor John Barnicoat.
The documentary screened on TV1 in October 2013.
When: Monday 17 December
Talk "Tasman Revisited" by Grahame Anderson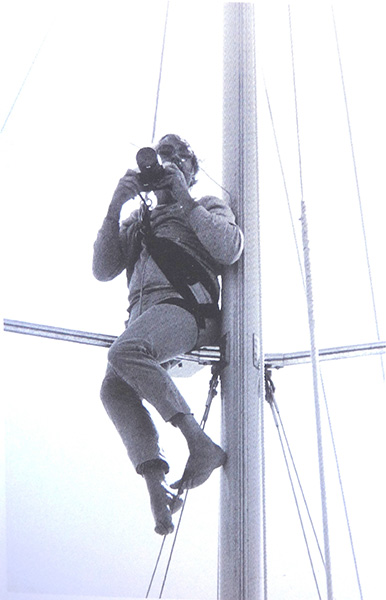 Between 12 December 1642 and 6 January 1643 Abel Tasman visited the shores of New Zealand, arriving off the West Coast of the South Island and departing for Tonga from Three Kings Island. Along the way they kept records of Latitude and Longitude, and Isaac Gilsemans created sketches of the coastal areas. Some of these were copied and printed to create, for example, the 1726 Ottens engraving currently part of the Abel Tasman 370 display at Nelson Provincial Museum.
In 1985 Grahame Anderson and John Hollings sailed much of the same route as Tasman had travelled, after making some corrections and allowances from the original position records. Using careful observation of the coastline they were able to pinpoint anchorages for the ships and viewpoints for the sketches and observations.
This is a modern-day adventure, and Grahame presented an account of his voyage which provided a unique view of what took place 370 years previously.
The image shows Grahame up the mast in February 1985, as he was carrying out his own voyage to locate Tasman's anchorages. The image is from his book The Merchant of the Zeehaen (Te Papa Press, 2001) p.98.
When: Sunday 16 December 2012, 2 pm (free)
Where: Nelson Provincial Museum (Board Room), cnr Trafalgar and Hardy Streets, Nelson
'Like a Moorish Trumpet' by Vincent O'Sullivan: Radio NZ Drama
Vincent O'Sullivan's 1992 drama explores aspects of the first cross-cultural encounter between Tasman's crew and local Maori. Includes specially recorded music featuring the Silver Tulip Choir of Wellington.
Alas no podcast for retrospective listening; the Radio NZ website states "Audio isn't currently available for Drama Hour for copyright reasons". However, the manuscript draft of the play is available (MS-Papers-8612-032) among O'Sullivan's papers held at the Alexander Turnbull Library, Wellington.
When: Sunday 16 December, 3.05pm
Where: Radio New Zealand National, Drama Hour
Website following Abel Tasman's progress
There is no doubt that the Global Positioning System (GPS) has changed sailors' lives. Now, 370 years later, Google Maps allows the original plot of Tasman's voyage to be recreated day by day as the logbook is revealed.
Detail from a copy of Visscher's chart showing the Tasman Sea and New Zealand segment of the voyage. Known as the "Eugene Map" from its early owner, it was drawn about 1666, and is now in the National Library of Austria. This image was reproduced in Wieder's Monumenta Cartografica (1932), volume 4
Where: Nelson Provincial Museum website
When: from 13 December 2012 to 7 January 2013
'The Seaward View': An introduction to our historical coast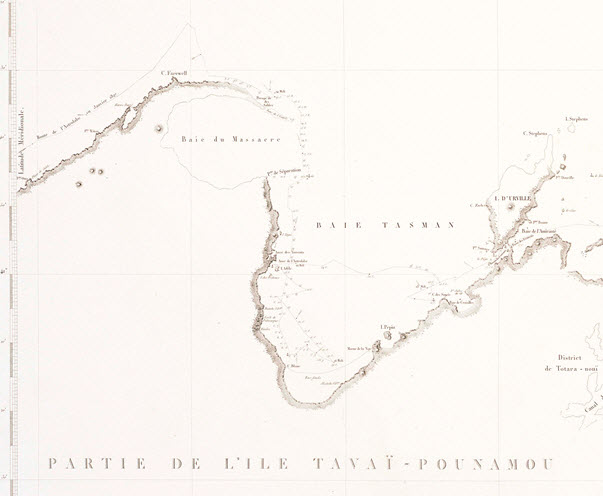 History of regional charting & views:  Maori—Tasman—Cook—d'Urville—Acheron. The coastal areas from Golden Bay to d'Urville Island were investigated by several important early voyagers who incrementally documented and named it.
Tasman's 1642 voyage may have made the first marks on paper recording the coast, and dispelling the myth of the Great South Land, but Maori had been here for several hundred years before that. How did they describe and name the coast? And what did Cook (1770), d'Urville (1827) and the Acheron (1850) add to the knowledge of our region?
The image above is of part of a chart from d'Urville's 1827 voyage, showing French Pass, which he discovered.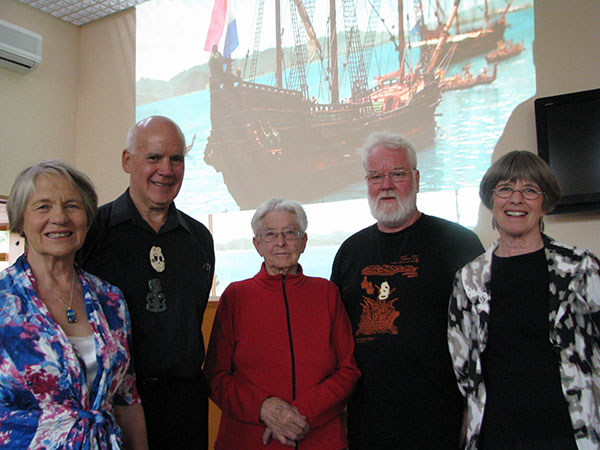 Using illustrations from these voyages, four speakers showed the development of detailed information on the rich variety of our coastal environment: John & Hilary Mitchell (Maori geographic knowledge; and Cook's voyage); Robert Jenkin (Tasman); Nola Leov (d'Urville); Penny Griffith (Acheron).
The presentation was hosted by Nelson Provincial Museum as part of the Abel Tasman 370 commemorations, with help from the Nelson Historical Society. This event was sponsored by the Netherlands Embassy as part of its AT370 programme.
Date and Venue: Tuesday 20 November, 7.30pm at the Masonic Hall, 107 Nile Street, Nelson (gold coin entry)
Image above: Speakers (L to R): Hilary Mitchell, John Mitchell, Nola Leov, Robert Jenkin, Penny Griffith. (Image courtesy Nelson Historical Society).
Article: Tasman 1642 in Buller 1862 anniversary publication
A special edition of the West Coast Messenger included the actual words and images from Abel Tasman's account for 13-16 December 1642, when he described Cape Foulwind and the Karamea Bight. AT370 is delighted to support Buller District in this 150-year commemoration, and remind them of their even longer European heritage.
When: Published Wednesday 17 October 2012.
For copies contact the Greymouth Star, www.greystar.co.nz
Creative Events (Bay Art)
Margaret Maloney's acrylic painting "Arrivals" from the October 2012 Bay Arts exhibition.
It skilfully blends images and paths of the arrivals of whales and Pacific & Maori voyagers, as well as those of Tasman and Cook – and familiar horizons.
Margaret is beginning a new series on this theme.
Where: Golden Bay
'Fresh': Recent, past, new start; a display of Alexander Turnbull Library treats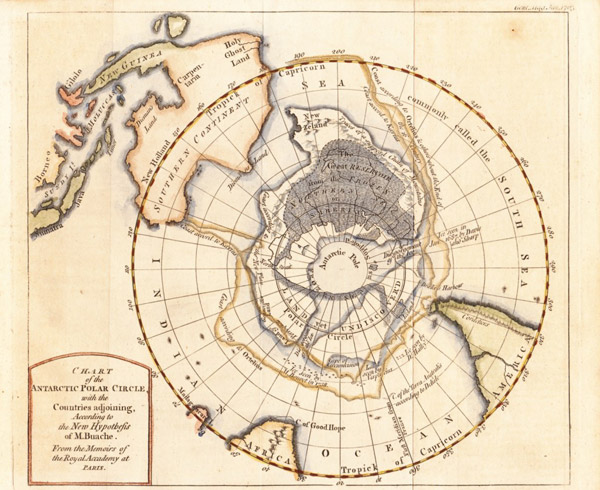 The eclectic mix of items included several of interest to Abel Tasman 370. One was Douglas Lilburn's original score for "Landfall in Unknown Seas", together with part of Allen Curnow's typescript of the poem which the music complements. Also on display is a 1763 printed version of Philippe Buache's chart of the Southern Hemisphere, showing Tasman's 1642 route, as well as hypothetical outlines of the actual landmass under the ice. During the last 50 years this chart has been used to substantiate far-fetched claims by pseudo-scientists of either ancient alien visitors or extinct civilisations, thereby discrediting the actual knowledge of Buache, first geographer to the King of France.
This short-term display marked the reopening of the Turnbull Library after two years, while the National Library building was being refurbished.
Where: Turnbull Gallery, 1st floor, National Library of NZ, Molesworth Street, Wellington
When: Until 29 September. Monday-Saturday, 10am-5pm (free entry)
2012 Coastal Classic Run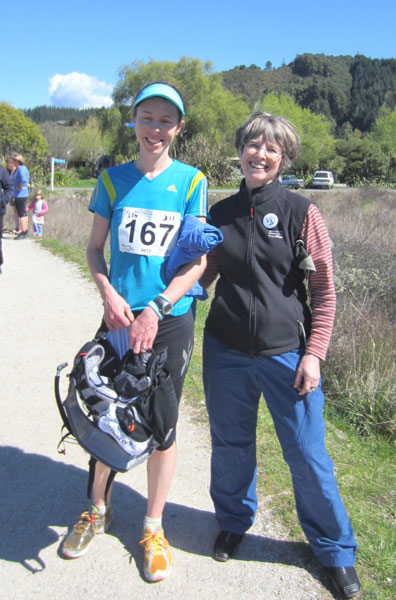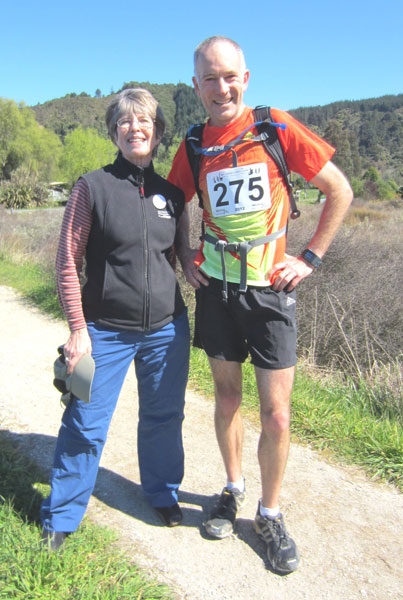 About 350 people ran from Awaroa to Marahau in this AT370 year of the annual race.
Awards included items donated by the Netherlands Embassy and Abel Tasman 370. The men's and women's winners received gifts from the Netherlands Embassy. Shown are pictures of the AT370 Coordinator at the finish with the winners: Graeme Taylor (of Nelson, 2h 27m 05s) and Michelle McAdam (of Sydney, 2h 58m 02s).
When: Saturday 22nd September
Bay Lit – Prizegiving
Included awards for the Abel Tasman 370 special story competition with cash prizes and prizes from the Netherlands Embassy. The evening had a nautical theme.
The 1st prize (including gifts from the Netherlands Embassy) was won by Mona Randall (pictured), and 2nd prize by Tonie Watts.
When: Thursday 20 September, 7.30pm
Where: The Mussel Inn, Onekaka, Golden Bay
Exhibition: Charting the Land on the Ocean: Pacific Exploration, 1520-1876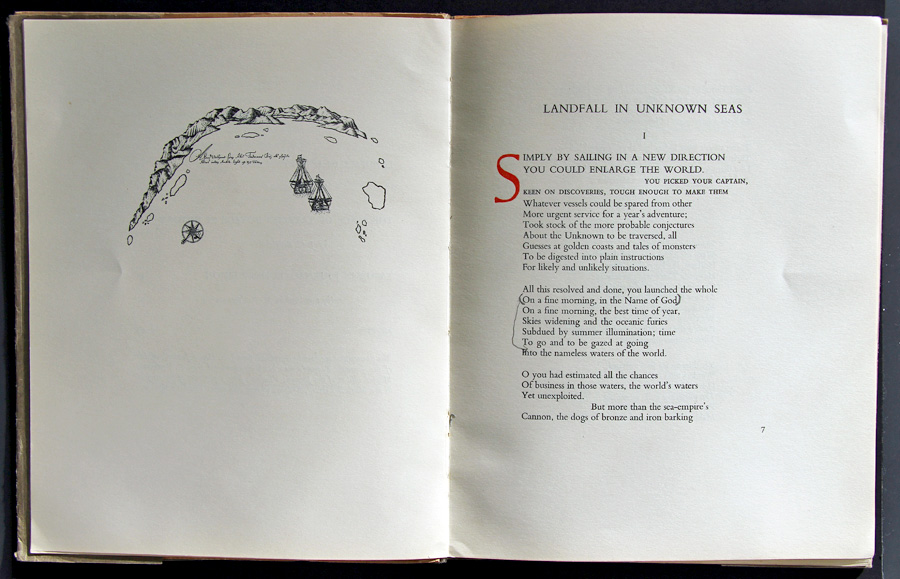 On 28 November 1520, Magellan weaved through the straits that would bear his name into the great expansive waters he dubbed 'Mar Pacifico'. His venture, representing the first of many Spanish-Portuguese rivalries over the control of the Spice Route, opened up the exploration of the southern seas, a vast tract of water with an endless horizon and numerous islands dotted about, most uncharted. Politically and commercially-driven expeditions began which slowly put shape to continents and the (re-) discovery of these islands. Notable among the first explorers were Mendaña de Neira, Sir Francis Drake, Willem Schouten, Abel Tasman, William Dampier, Samuel Wallis and Philip Carteret.
The image above is from Charles Brasch's copy of the tercentenary (1942) publication showing a facsimile of the d'Urville Island anchorage and the first page of Allen Curnow's commemorative poem, with Brasch's annotations.
The exhibition featured rare books and maps from the Hocken Collections, the Science Library, Special Collections, University of Otago, and the Heritage Collection, Dunedin Public Library. Goals were: to highlight through their publications the brave endeavours of these explorers (with all their concomitant pleasures and vicissitudes); to reveal the slow and steady charting of the Pacific; and to remind students, scholars, and the wider community that these resources do exist, and can viewed, touched, read, and enjoyed.
For further details contact Dr. Donald Kerr, Special Collections Librarian, University of Otago Library, P.O. Box 56, Dunedin, 9011, Donald.kerr@otago.ac.nz; (03) 479-8330
When: 22 June to 14 September 2012 (8.30 to 5.00 Monday to Friday)
Where: de Beer Gallery, Special Collections, University of Otago Library, Dunedin
Visual event: The Romance of Birds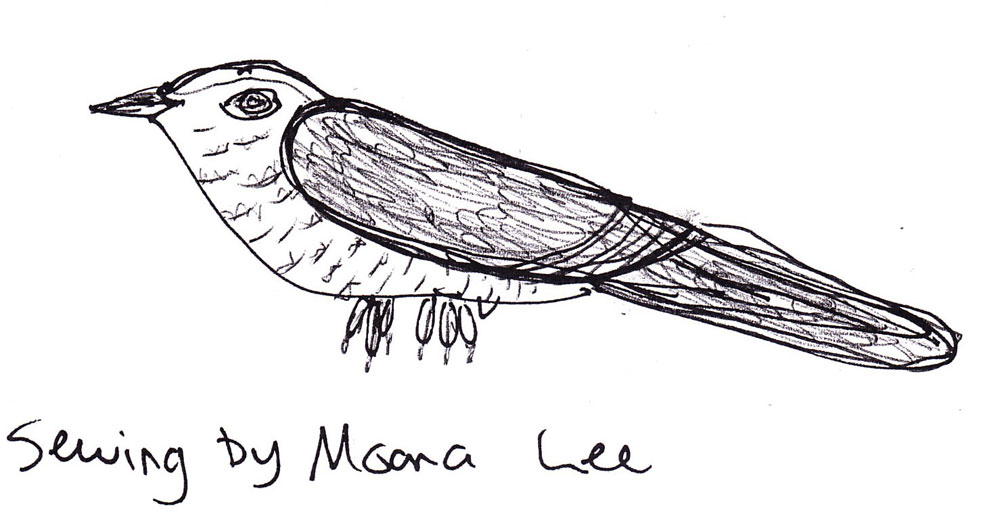 Moana Lee is an artist known for her use of recycled materials and interest in birds. This Tasman 370 year combines her talent with a celebration of Perrine Moncrieff's role in the creation of Abel Tasman National Park. Moana's Creative Communities grant has supported her in preparing a multi-faceted creative-educational installation. Takaka Library hosted this visual celebration, with In-house bird-spotting, colouring activities, etc, and an opening event that included a talk on Perrine Moncrieff by Geoff Rennison.
When: Saturday 15 September, 10.30am
Where: Takaka Memorial Library
Concert: 'Music of Abel Tasman's Europe'
This programme presents music known in the Netherlands during the mid 1600s, which was the time of Abel Tasman's visit to Aotearoa/New Zealand. Tunes from Jacob Van Eyck's charming publication of solo recorder divisions, Der Fluyten Lusthof (The Flute's Garden of Delights) and keyboard works by Jan Pieterszoon Sweelinck will form the foundation of the programme, which includes a selection of the English, French, German and Dutch tunes known to this cosmopolitan trading nation.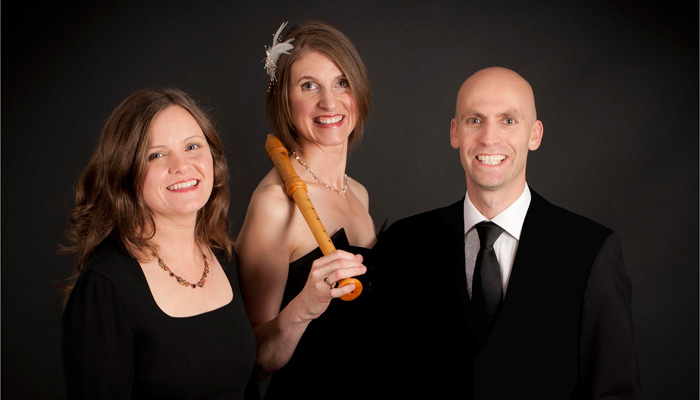 Kamala Bain and Rowena Simpson both trained in historical performance practice in The Netherlands. They first performed as a duo in a programme of contemporary music at the NZSM in 2011 and have since performed with Stroma in the April 2012 Soundbytes concert. For this programme they joined forces with NZSM's new Lecturer in Historical Performance Practice, Erin Helyard and percussionist, Dorothy Raphael, to add a little spice to the sound.
Te Kōkī, New Zealand School of Music is a joint enterprise of Massey University and Victoria University of Wellington. This concert was part of the NZSM's Friday Lunchtime Concert series, open to the public.
When: Friday 27 July, 12:00pm–1:00pm (free admission)
Where: Adam Concert Room, Victoria University of Wellington, Gate 7, Kelburn Parade, Wellington
Boat trip to Tasman's anchorage off Whariwharangi Beach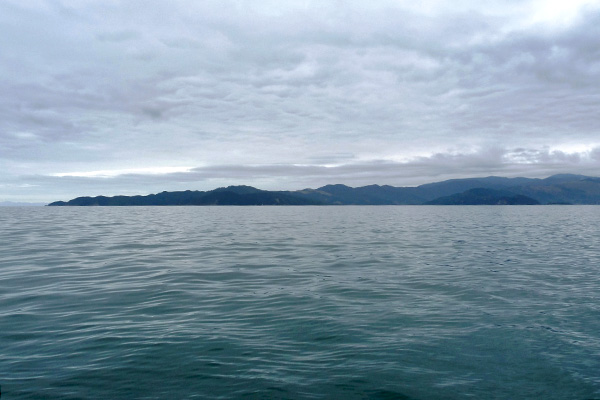 A boat trip from Tarakohe to the place where the Zeehaen and Heemskerk anchored on 18/19 December 1642. This was about 4km north of the Tata Islands, though their small boats explored closer to shore, a subject of continuing debate based on the images from their voyage. We compared those images with what we saw on the day.
Photo on the right: Looking into Wainui Bay from the anchorage
When: Saturday 21 July
Where: Golden Bay
Design & Build (1942): Ernst Plischke and the Abel Tasman Memorial
Speaker: Tony Richardson (Hamilton) who also produces scale models of the Memorial. Photo is of scale models created by Tony Richardson.
John Mason, Golden Bay Area Manager for the Department of Conservation, will speak on their responsibilities. Public input also invited – bring memories and photos. Meeting hosted by the Golden Bay Museum, supported by Takaka Memorial Library.
When: Thursday 28 June, 11 am
Where: Takaka Memorial Library, Golden Bay
Concert: "Cultures in Concert" Ngatitumatakokiri – Abel Tasman 370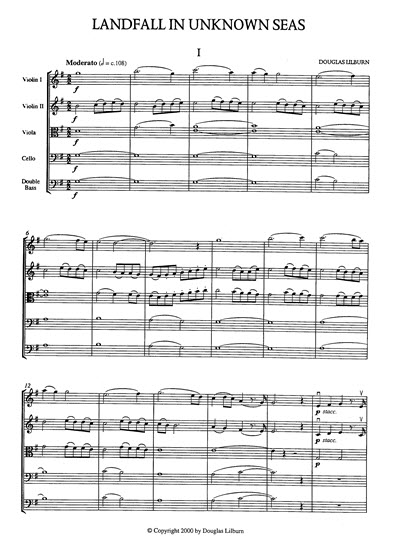 A local string orchestra and narrator perform Douglas Lilburn's "Landfall in Unknown Seas", written to mark the 1942 tercentenary of Tasman's European discovery of New Zealand and first contact with Maori. The music is in four parts, with narration of Allen Curnow's iconic poem linking the parts. The programme also includes a Lilburn piano sonata played by a visiting soloist, and a blend of kapa haka and familiar songs performed by the Koata Whanau.
Supported by sponsorship from the Netherlands Embassy, the NZ Netherlands Foundation, Nelson Mail, and Summerset In The Sun, Stoke.
Where: Nelson School of Music – When: Sunday 17 June, 2.00 pm
Seminar of Abel Tasman Scholars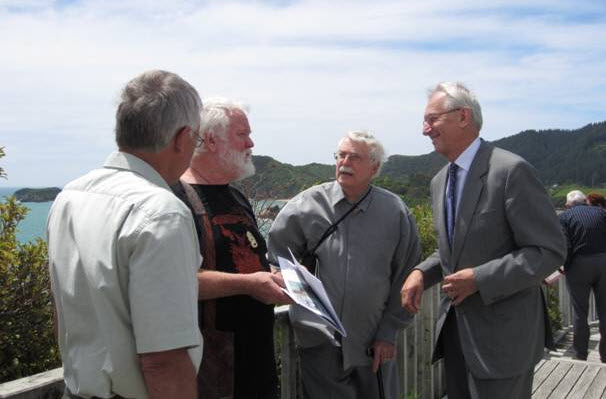 The Netherlands Ambassador, Mr Arie van der Wiel, hosted a seminar of invited scholars in Nelson, to discuss unanswered questions about exactly what happened when Abel Tasman's voyage of discovery reached New Zealand waters. Questions of particular interest considered what happened in Mordenaers Baij (now Golden Bay) on 18/19 December 1642 when Maori and European met for the first time.
The picture shows Mr van der Wiel (right) in discussion with John Mason (Dept of Conservation), Robert Jenkin, and Grahame Anderson, when the ambassador visited Mohua/Golden Bay on 22 November 2011. They are shown at the Abel Tasman Memorial above Ligar Bay, a national monument to Tasman putting New Zealand and its first people "on the map" of world knowledge.
When: Friday 15 June (by invitation) – Where: Nelson
Nelson Provincial Museum – Abel Tasman 370 Display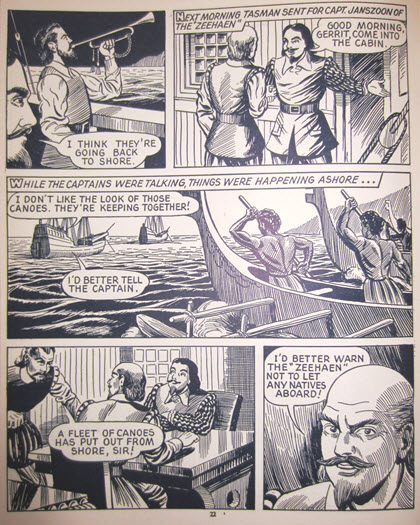 A new display, drawing together items from the Museum's collection, to highlight the recently purchased 1726 engraving in the wider context of records relating to Tasman's 1642 voyage.
The image above is a page from a 1950s Australian social studies book The South Land; private coll.
Where: Nelson Provincial Museum exhibitions site, cnr Trafalgar & Hardy Streets, Nelson
When: from 15 June
Refurbishment of Astrolabe – Cape Foulwind Walkway
In 1992 the Netherlands Navy presented an astrolabe (navigational instrument) to mark Tasman's first anchorage in New Zealand waters. It was initially located on a plinth on the Cape Foulwind Walkway until damage meant it had to be removed for safe keeping.
The photo shows Natasha Perry and Jack Powick of the Buller-Kawatiri office of the Department of Conservation, who carried out the repairs and reinstatement of the astrolabe in 2012. Behind them is Tauranga Bay, where the ships anchored on 14/15 December 1642.
When: May 2012
2012 BayLit Writers Competition
This year's annual event (open to Golden Bay residents) includes a special Abel Tasman 370 story category for 13+ yrs old and adult writers. Prizes include cash, and items donated by the Netherlands Embassy. Leaflet with full BayLit details is available from Takaka Memorial Library.
When: May to 27 July (closing date)
The prize-giving (with a nautical theme) will took place at the Mussel Inn on 20 September.
Project Janszoon & Abel Tasman National Park – An introduction

Hear about an exciting new conservation project in the Nelson/Tasman Region aimed at reversing the current ecological decline occurring in the Abel Tasman National Park. Project Janszoon Director Devon McLean will talk about the origins and goals of the Project.
Where:  Takaka Public Library
When:  Tuesday 8 May, 12.15 pm
View on Golden Bay 1642 / 2012:  Hartebeest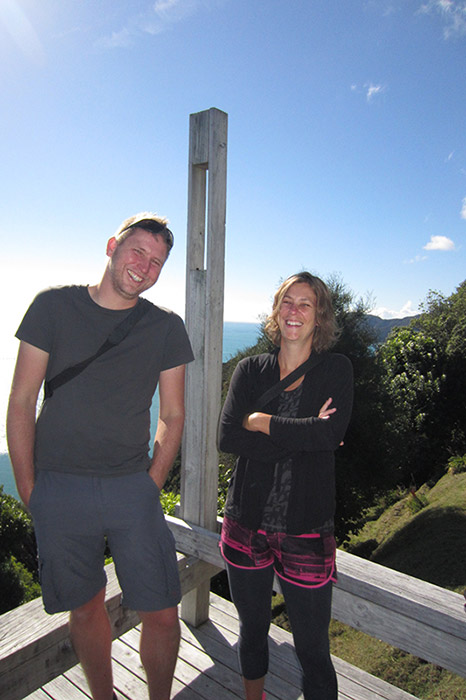 Gerco & Maaike, graphic designers from The Netherlands talk about their project www.viewongoldenbay.com, recreating an image from Abel Tasman's visit and the meeting of different views and cultures.  The photo above shows Gerco Hiddink and Maaike van den Heuvel at Abel Tasman Point.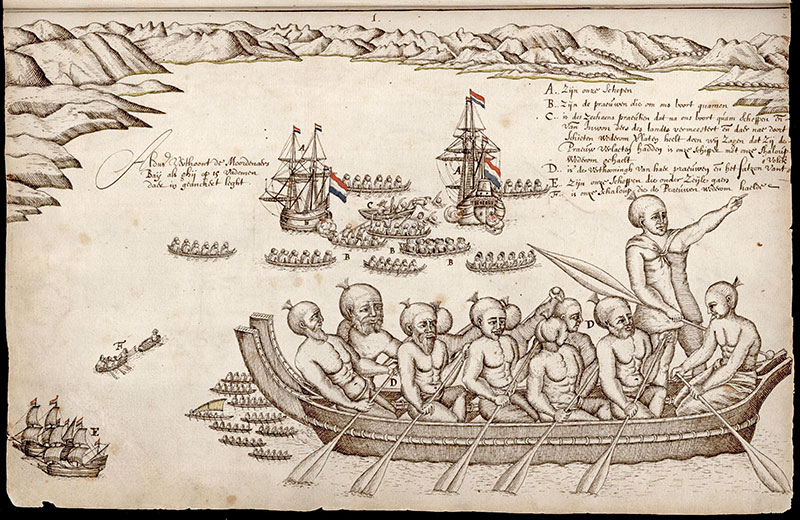 When: Tuesday 17 April. 7.30pm (supper after)
Where: Community Centre, Takaka, Golden Bay
Suter Gallery exhibition:'Wish you were here: Views from Golden Bay and the Abel Tasman National Park'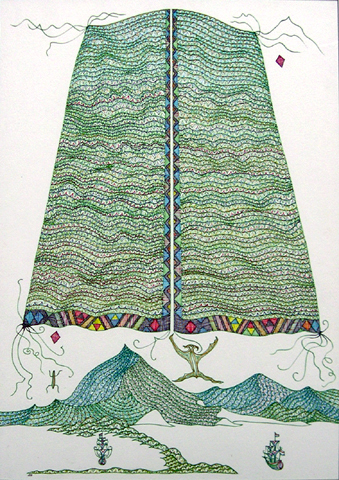 This exhibition revelled in the beauty of the Abel Tasman National Park and Golden Bay region as seen by different generations of artists. It featured landscape paintings from The Suter collection, supplemented by loaned works by regional artists. Two of The Suter's most important art works: Western Coast of Tasman Bay 1885 by John Gully and All Along the Heaphy Highway 1998 by Bill Hammond will be on display along with a stunning suite of landscape studies by Irvine Major, watercolours by Doris Lusk and Olivia Spencer Bower, and paintings by John Bevan Ford (image on left) and Cedric Savage. A portrait of pioneering New Zealand conservationist and founder of the Abel Tasman National Park, Perrine Moncrieff (1893 – 1979) by Marjorie Naylor (image on right), was also on show.
When: 18 February-1 April
Where: Suter Gallery, 208 Bridge Street, Nelson
Engraving gifted to Nelson Provincial Museum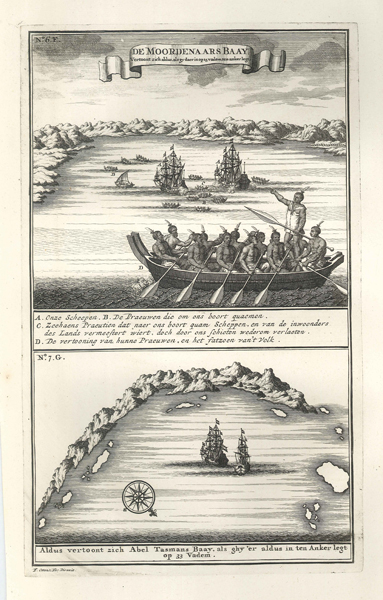 A rare engraving with two images from Tasman's 1642 voyage of discovery was in an auction being held in Auckland on 20 February. It shows (a) the first meeting between Tasman and Maori in what is now Golden Bay, and (b) Tasman's anchorage on the east side of Rangitoto/d'Urville Island. The engraving was among the second images made public after Tasman's voyage. Supporters fundraised in the hope they would be able to gift it to Nelson Provincial Museum.
The fundraising was very successful, enabling Abel Tasman 370 to buy it as a gift for the museum, despite stiff competition from a private collector.
When and Where: 9-20 February – Auckland (auction)
Hand-over by donors of the 1726 Tasman engraving to Nelson Provincial Museum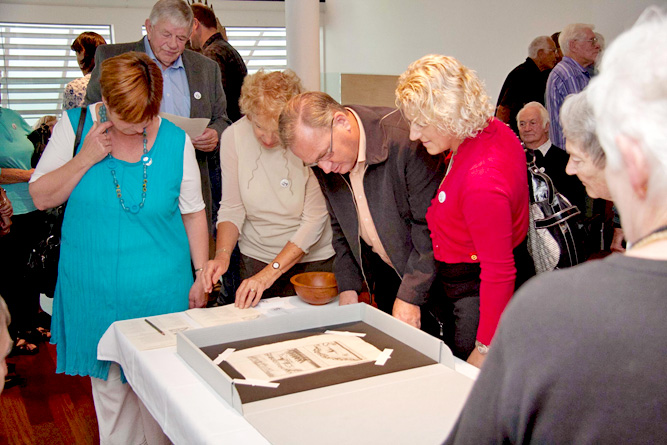 A special morning tea. It provided an opportunity for the Museum to thank more than 40 donors who wanted to gift this valuable item to the museum, guardian of the heritage of the region where Maori first encountered Europeans.
When and Where: March 22 – Nelson Provincial Museum
Photo above: Donors at the handover are thrilled with the engraving they have gifted to Nelson Provincial Museum. (Image courtesy of the Nelson Provincial Museum)
Talk by Dr Robin Hodge on Perrine Moncrieff and the creation of Abel Tasman National Park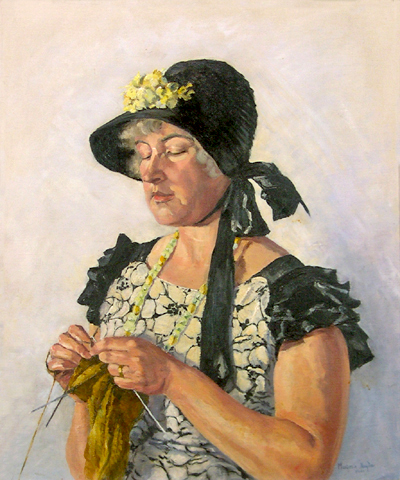 This talk was linked to the exhibition showing at the The Suter between 18 February and 1 April (see below). Dr Robin Hodge is a Wellington-based historian who has written a PhD on Moncrieff and a biography that is awaiting publication. Robin's illustrated talk focused on Moncrieff's role in establishing the Abel Tasman National Park during the Second World War. It also included her other conservation projects and her role at the Nelson Institute.
This talk was organised by the Nelson Institute as Perrine Moncrieff was a stalwart of this community group for many years. Perrine holds a special place in the history of the Institute as her life membership was one of the arguments for the group's continuation in the face of attempts to disband it in 1965. The Nelson Institute is still very much alive. Contact President: Barbara Rhodes: rhodesb@ihug.co.nz (phone 545-1646) or Secretary: Nigel Costley: costleymarr@xtra.co.nz (phone 548-3101).
When: Wednesday 7 March, 8pm.  Cost: $5
Where: Suter Theatre, Bridge Street, Nelson
Guided walk, Abel Tasman Point (Golden Bay)

Visit private conservation land with talk by the owner – and tea.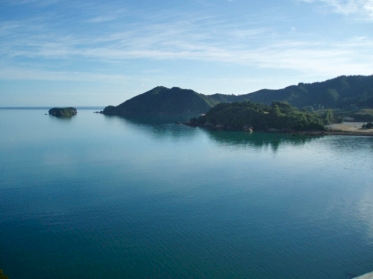 The photo above is of Tata Islands and Abel Tasman Point as seen from the Ligar Bay Tasman Memorial (Ministry for Culture and Heritage).
The photo is of owner James Beard explaining the features of the headland, which has a QEII covenant. It has been sensitively re-vegetated over a 40-year period.