In the Bulletin of the Australasian Institute for Maritime Archaeology (2014), 38, A possible pre-Tasman canoe landing site, or tauranga waka, in Golden Bay, South Island, New Zealand (2014), Mack and Hawarden state that "Witsen (1705: 172) includes four images of the Tongan and New Guinea coast lines from Abel Tasman's 1642–43 expedition, all of which differ from the illustrations of the same areas in the official Abel Tasman journal (Sharp 1968: 160–161, 166–167, 217, 245). An investigation comparing the Witsen illustrations of Tonga and New Guinea with the illustrations in the official journal may prove useful. If these other Witsen images of Tonga and New Guinea can be accurately correlated to the landscape, historians and archaeologists will gain an improved understanding of the conditions prevailing in this important contact period."
We are unable to compare the coastlines of the first and last Witsen images with their originals, because the SAC originals of those have no coastlines to compare. Neither Tongatapu nor the adjoining island of Nomuka have any ranges of hills worth speaking of; Nomuka in particular is virtually flat. Others with Google Earth may duplicate this 'research' for themselves. Can "other Witsen images of Tonga and New Guinea … be accurately correlated to the landscape"? probably not.
In the following four comparisons the Tasman's Journal 1643 originals appear above their 1705 Witsen adaptations. The four Tongan illustrations have been condensed into two by Witsen's artist, and in every adaptation the horizon is flattened, requiring the addition of presumably invented background hills, while in the Tongan views the Dutch explorers themselves have been edited out.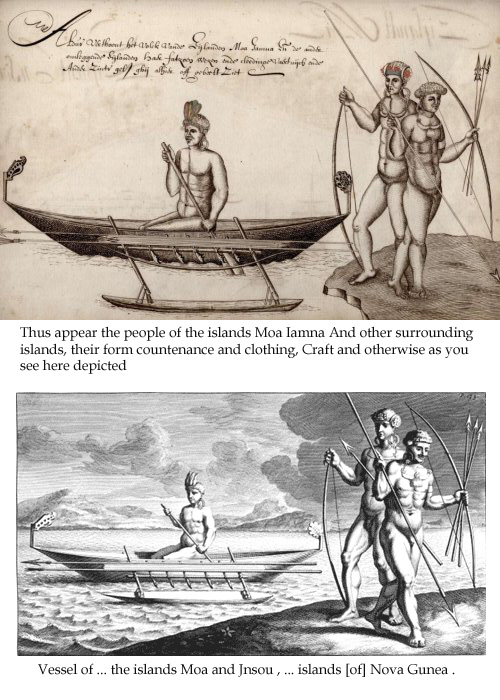 None of the adaptations we see here inspire any confidence that Witsen's etcher's inventive coastlines and skies, his 'improved' anatomies or his more dramatic use of light add  greater accuracy to Tasman's Journal's  illustrations. Quite to the contrary, by removing all trace of the Tasman's expedition itself, essential cultural and narrative elements such as the long row of canoes facing Tasman's ships in the illustrations below have, as historical evidence, been actually falsified.